The newest addition to the Garden Remedies menu is
Cold Pressed Vapes
, now available in three different strain-specific options (with many more coming soon).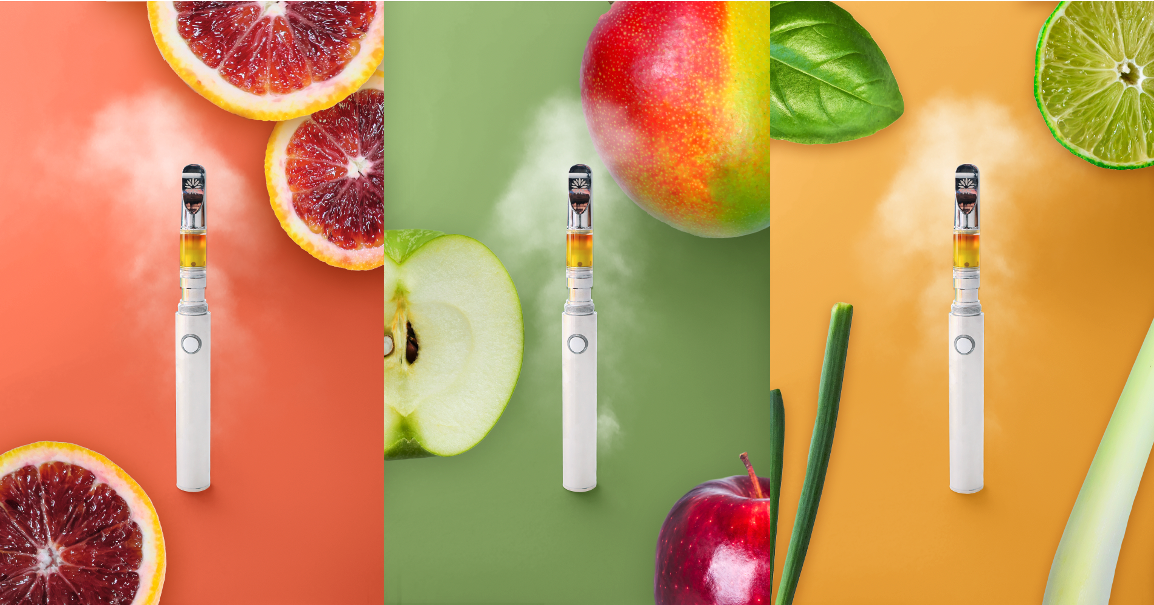 Cold Pressed Vapes are truly plant-accurate, packed with a natural spectrum of cannabinoids and 100% cannabis-derived terpenes that closely represent the organic makeup of signature cultivars. The taste, aroma, and general flavor of cannabis strains is the result of nature's unparalleled precision—and these new vapes are as precise as the plant itself.

With Cold Pressed Vapes, you can truly flavor your experience.
And they don't replace our current lineup of strain-specific vapes, but instead coexist alongside them—even listed at the same price.

But that raises the questions… What's the difference? What does it mean to be "truly plant-accurate"? And what's in a Cold Pressed Vape?
Authentic Plant Makeup
Mike Richards, the Senior Scientist at Garden Remedies, explains that the difference is a matter of ingredients.

"Our traditional vapes are made with purity in mind—their ingredients have been refined to boost the potency of specific compounds such as THC," Richards said. "The Cold Pressed Vapes are crafted to give a more holistic experience… Instead of emphasizing some parts of the plant and removing others, the Cold Pressed Vapes give you a botanical profile akin to what you'd find in nature."
And if you look at the menu pages for the Cold Pressed Vape cartridges, you'll see that natural profile explained in great detail.

As with most cannabis menus, you'll find information on the strain and the THC percentage—but if you scroll down lower, you'll also find a breakdown of additional cannabinoids, plus a full layout of the given vape's terpene profile.

Some of these statistics are rarely made available upfront at cannabis dispensaries, but Garden Remedies believes these numbers are crucial to communicate, in part to illustrate the alignment between authentic plant makeup and the extracts made for products like Cold Pressed Vapes.
"While terpenes play a significant role in cannabis's taste and smell, they also influence the experience of the person consuming," Richards added. "Just as the taste and texture of cold pressed juice is closer to fruit than filtered juice, a fuller and broader profile of terpenes like you get from Cold Pressed Vapes will give an experience closer to smoking whole cannabis flower."
In short, it's all in the ingredients—and we put ours front and center.
Cease and Desist


This spicy blend showcases Cease and Desist's complex set of flavor notes, which originate from a terpene profile much larger than the usual strain.

For instance in this batch of Cease and Desist Cold Pressed Vapes, six different terpenes tested at more than 0.20%—a very notable percentage considering the strength of the compounds in question.
"Most citrusy strains have high levels of limonene and linalool," Richards explained. "Cease and Desist has this as well as significant amounts of beta-caryophyllene (found in cloves and black pepper). The combination is something more complex than traditional citrus flavors like lemon or orange…blood orange would be a more apt comparison."
The first batch of Cease and Desist Cold Pressed Vapes tested in at 2.84% terpenes, including…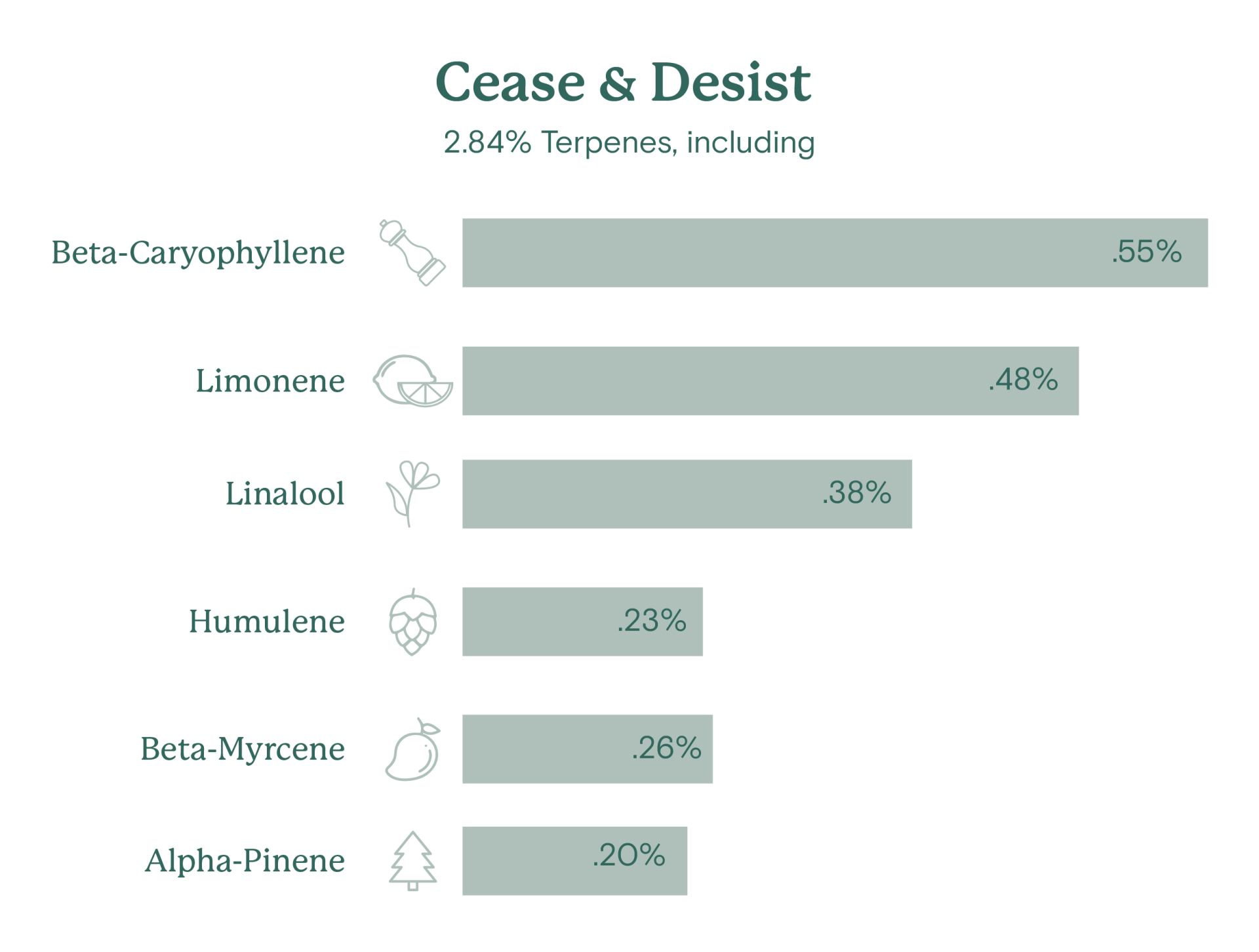 Deadhead OG
Classically earthy cannabis tastes make a comeback with Deadhead OG, a piney blend that carries the sense memory of all our favorite old smoking circles.
Citing it's a nerolidol and limonene terpenes, Richards said the strain has a lemongrass flavor to it, delightfully sour like so many cultivars of the past.
The first batch of Deadhead OG Cold Pressed Vapes tested in at 2.78% terpenes, including…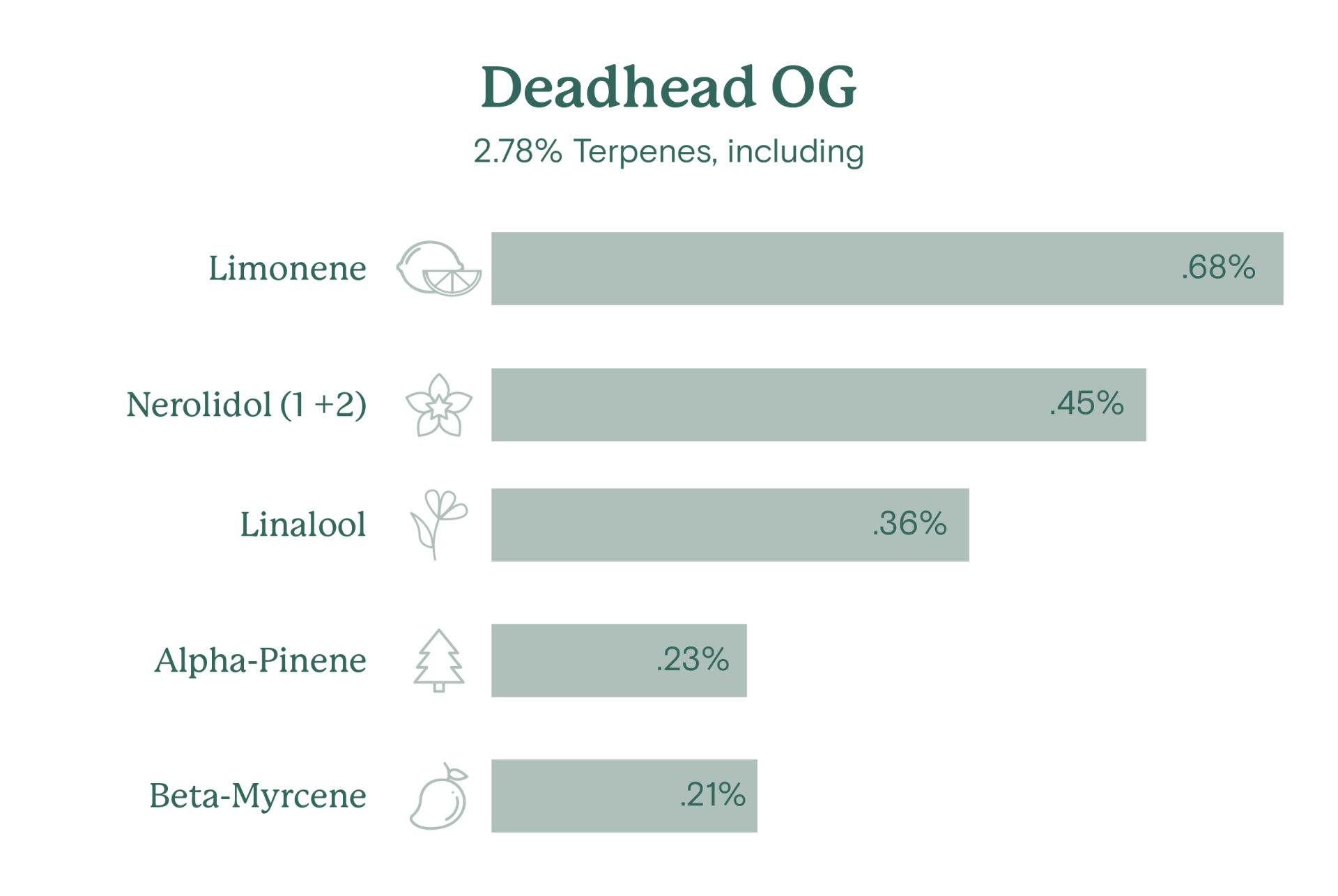 Lemon Peels
Earthy and herbal flavors combine in the Lemon Peels blend, mixing sweet and spicy tastes with every pull.
"Having an abundance of beta-myrcene and terpinolene, Lemon Peels' terpene profile is actually more like that of mango or apple," Richards concluded. "Beta-myrcene has a sweeter, softer aroma than citrusy terpenes like limonene."
The first batch of Lemon Peels Cold Pressed Vapes tested in at 2.27% terpenes, including…