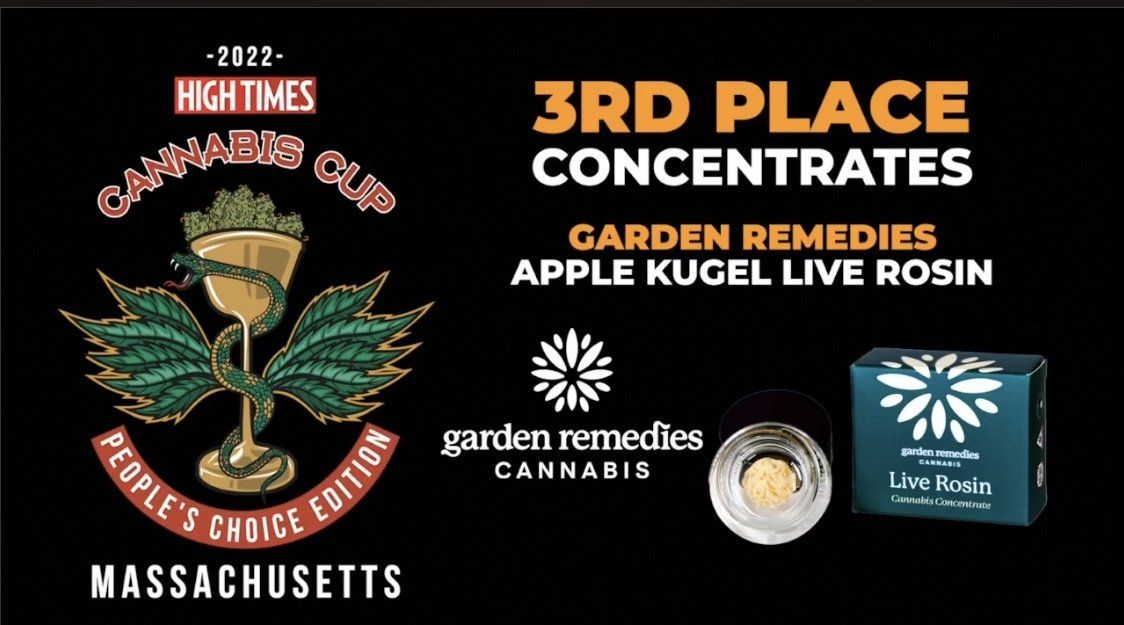 We're once again giving thanks for our Massachusetts cannabis community, who just voted us another major award
as part of the High Times Cannabis Cup 2022: People's Choice Edition! Going straight from the dessert table to the winner's circle, our
Apple Kugel Live Rosin
was one of three products awarded in the
Best Concentrate
category for 2022!
First off, we're sending congratulations and love to everyone in the Garden Remedies Laboratory for bringing home this well-deserved award! It's always exciting to put a new trophy on the mantle—and even more importantly, it's so inspiring to know that our lab's concentrates are now being
recognized as some of the very best in Massachusetts, by our hometown communities and by industry legends like High Times too!
Behind every great concentrate is equally great flower, so we're sending major props to everyone in our Cultivation department as well! Our grow of the Apple Kugel strain has been an instant favorite since its first appearance at Garden Remedies earlier this year, when it was immediately acclaimed for its lightly fruity smoke and other delicious flavor notes.

In fact, we owe thanks to everyone in the GR family for helping to bring out the beauty of Apple Kugel, especially the retail teams at our weed dispensaries in Marlborough, Melrose, and Newton, Massachusetts.
It's also great to see so many of GR's peers and partner brands up on the podium with us, such as
Fernway,
Nature's Heritage, and
Treeworks! We're sending congratulations to every company that was recognized as part of the High Times Cannabis Cup 2022—we remain so honored and excited to partner with you to deliver our cannabis to customers and patients across the state. Be sure to check your local Garden Remedies menu for the latest and freshest products from our fellow award-winning brands.
As for our own pride and joy…
Apple Kugel Live Rosin
is still available in very limited numbers at some Garden Remedies locations, so keep your eyes open for that award-winning batch! Then check out the Concentrates menu at every Garden Remedies cannabis dispensary to see our Lab's many other
highly
recognized live rosin products, all released in limited batches available only while supplies last!

We're going to press on—rosin pun fully intended—and make you all proud by living up to this award with each new drop to come!
To receive feedback and responses like this about our cannabis is the greatest holiday gift we could ever ask for. Awards that come directly from the community, like the
High Times Cannabis Cup: People's Choice Edition, truly mean the most of all. So we're sending our biggest thanks ever to the entire marijuana community in Massachusetts… we can't wait to run it back with you all next year for Cannabis Cup 2023!